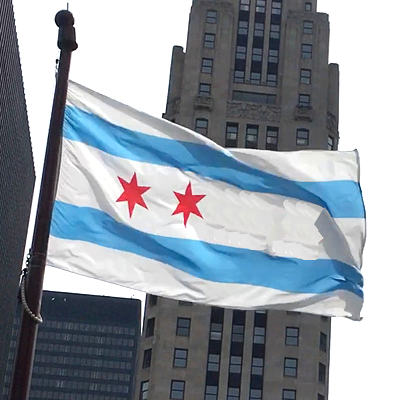 Many people ask us about the meaning and origin of our name - Six Point Pet.  Our naming process was probably similar to a lot of other small businesses and entrepreneurs - cocktails, brainstorm, check for domain name availability, and bounce it off some friends and family. 
When we embraced the name Six Point Pet we felt it was a name that we could build a brand around and we liked how it sounded.  We also liked that it had an abstract reference to Chicago and the six pointed red stars of the Chicago Flag.  After all, we are committed to making our products in the city of big shoulders and we wanted to say Chicago with a wink & a nod.
Even though on the surface they are just six pointed red stars, there is some interesting history and symbolism behind them and their red coloring. 
The red of the star can be traced to the proposed colors of the original Y banners and flags that were used to decorate the Columbian Exposition.  The Y symbol represents the two branches of the Chicago River and has been used as a municipal device over the years.  You can still see the Y around town - most notably on the Chicago theater marquee.
The six points can be traced back to the design decision by flag designer Wallace Rice.  He felt stars with five points were meant to represent nations and states and not municipalities.  He also gave the stars a uniquely sharp angle and included only two as part of the original design.
Without Wallace Rice - there isn't a Six Point Pet.  Maybe a Y Pet or Five Point Pet, but not a Six Point Pet.  Thanks Wallace, we wouldn't be here without you.